All County Music: The Repair Shop
---
*Important Repair Shop Information*
Before visiting our Repair Shop this SUMMER please verify with us that your instrument was rented or purchased from All County Music.
If it was not rented or purchased from All County Music we will not be able to schedule a repair for you between June 10th and October 9th as we will closing our repair shop to the general public in preparation for the 2023-2024 school year.
Please contact us at 954.722.3424 or email [email protected]
---
About Our Repair Shop
Trusting All County Music with your repair means you are getting 38 years of established consistency in repair work. Backed by our professional staff of technicians your instrument will receive the best attention possible and quality work. All County Music assures our customers guaranteed satisfaction and service.
---
Ultrasonic Cleaning
Only All County Music utilizes the Ultrasonic Cleaning System to sanitize all of our like-new and used brass instruments and woodwind mouthpieces: a far superior cleaning system when compared to conventional methods or harsh chemicals that other stores use.
If it's not Ultrasonic Clean, then it's not clean enough.
Meet Our Repair Staff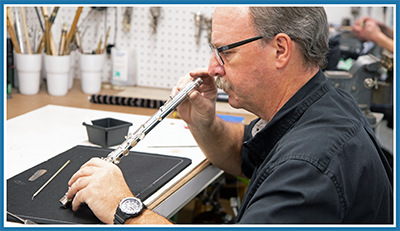 A 1985 gradate of the Allied Instrument Repair School, Mark is one of All County Music's service center managers and has been with us since 1987. Mark divides his repair skills between brass and woodwind instruments with many satisfied professional and student musicians. As a Straubinger certified flute technician, Mark has been repairing, regulating, and overhauling professional quality flutes for over 10 years.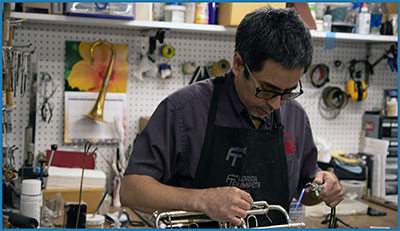 Stefan
Senior Repair Technician
For over 20 years at All County Music, Stefan has been helping professional and student musicians play their best by providing incomparable repair services. As a performing professional, Stefan understands the nuances players are seeking and delivers the services they expect. Whether he is working on a brass or woodwind instrument, his attention to detail guarantees an outstanding repair. Stefan graduated Plantation High School and attended the University of Miami.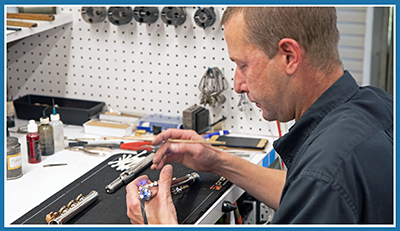 Brandon
Senior Repair Technician
Brandon began his career at All County Music in 1996 in the position of repair center customer service. Through meticulous training, Brandon is now a factory authorized and Straubinger certified repair technician specializing in woodwind and string instrument repairs. Brandon has been repairing, regulating and overhauling professional quality flutes for over 10 years.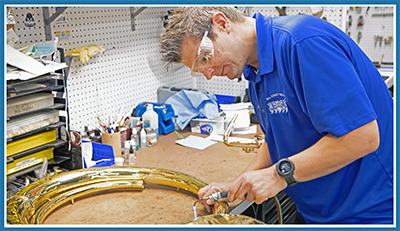 In 2003 Justin joined the repair staff at All County Music and has since honed his skills in brass, woodwind, percussion, and string instrument repairs. His duties also include repair shop scheduling, and customer service. Justin is a graduate of the Broward County School system.
Waldron
Repair Technician
Waldron started repairing with All County Music in October 2017, and has continued to hone his craft in all brass instruments through major brands. As a prominent local musician, Waldron graduated from Florida State University with a Master's in Music Performance in 2014. He since then also teaches privately, teaches classes, and performs with some local top tier bands. Waldron's playing background helps provide excellent repair work for student and professional musicians.